Short Scale Guitar... Worth Buying? (Taylor GS Mini review, 3 Years Later)
Lesson #512 • Aug 31, 2023
Every few months I get an email asking about my Taylor GS Mini, which I picked up back in summer 2020. Why do I (sometimes) use it? Is it good for traveling? Can it work as your only guitar? In this video I'll answer all these questions, going in-depth on the various things I truly love about owning it.
I'll also touch on some of the disadvantageous you're due to run into with any shorter scale guitar. And for good measure, I'll show how it compares to my full-size Taylor 310 (with measurements and audio samples included). To all of you who are wondering, I hope you find this helpful!
0:00 Intro & Quick Summary
1:14 Good for Travel?
3:04 Good for Main Guitar?
8:34 Good for Tough Songs?
12:59 Disadvantages
15:06 Close-Up & Size Comparison
17:21 Audio Comparison
Lesson Discussion
Questions I Answer
From Mike, who asks about travel…
David, I hope all is well. I was hoping that you could help me regarding a travel guitar. I believe that you sometimes use a Taylor travel guitar in your lessons. I am currently looking to purchase a travel guitar (I currently own a Taylor 214ce but want something smaller for travel) and was wondering what model you are playing. Any thoughts on a travel guitar that you might have would be greatly appreciated. Sincerely Mike.
From Fellipe, asking about comfort, and if a short scale guitar could be used as one's main (and only) guitar…
Hey David —  Currently I own a 114e but I'm finding it just too big and I'd like a more comfy guitar. In your videos I see you playing the gs mini and it looks good! What do you think of the gs mini as the main (and only) guitar? Would you exchange a 114 for a mini? cheers, Fellipe
From Rob, asking about which circumstances I find myself using my short scale guitar…
Hi David — you appear to be playing a guitar with quite a short scale in your Graceland video.
In what situations do you choose to use it?
I wonder whether I might find one more playable. I often use a capo to make playing more comfortable on my GAC [Grand Auditorium Cutaway]. Keep up the great content. —Rob
Measurements (Taylor 310 vs. Taylor GS Mini)
Notice how the width of the fretboard is quite similar to my full-size Taylor 310 (only a 3-4% difference). The length of the fretboard, however, is where the small size really kicks in (13-14% difference). The frets absolutely feel easier to stretch to, but never cramped.
The depth of the body is likewise a fair bit less (8-9%) — which just feels right to me. This also likely contributes to the guitar altogether being easy to pick up, put down, get strap on & off shoulder, etc.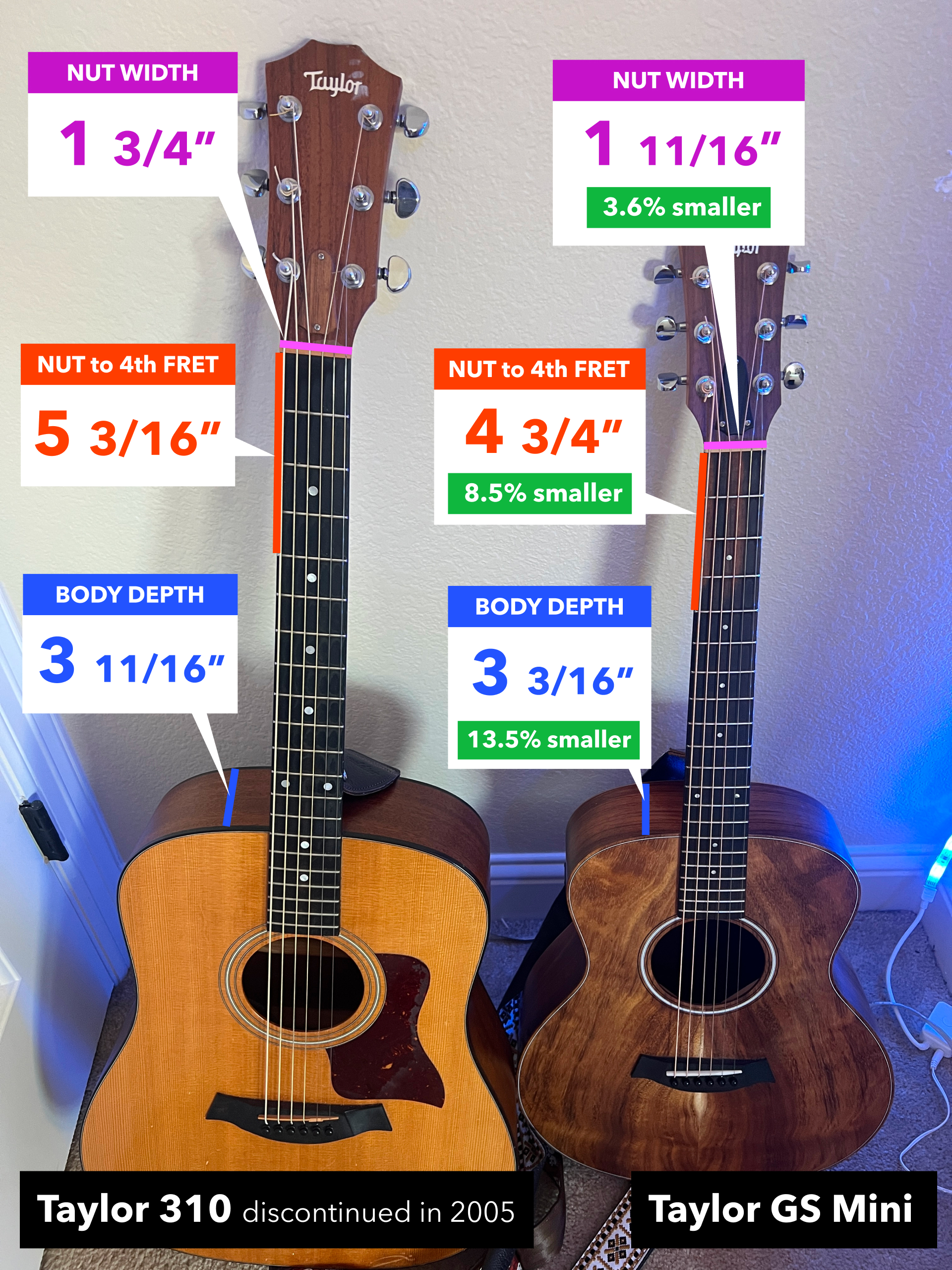 Short Scale Guitar Comparisons from Other YouTubers
As I state in my vieo above, I am not an expert when it comes to gear. The only two acoustics I've owned (since 2001) are my Taylor 310 and this Taylor GS Mini… so there are a ton of gaps in my knowledge re: finer details of different manufacturers, guitar sizes, and other such things. So — I leave it to these fine folks (who have actually played many, many of these guitars) to tell me what they think.
Enjoy my lessons? Buy me a beer!
If this and my other lessons have proven helpful to you, please consider making a one-time donation to my tip jar. Contributions of any amount help make this project possible (including the many, many hours I put into it).
Fun & Helpful Tools I've Made
Fret Monster
Interactive fretboard map! See the patterns behind every scale in any key.
View
Capo Captain
An easy way to calculate key & chord combinations, for any capo location!
View
---
Subscribe to my YouTube channel
Be sure to never miss a lesson by subscribing on YouTube. I put out 2-3 new videos every week. These include full song lessons, as well as covers, practice tips, behind-the-scenes updates. Thanks!
---
Recent Lessons
Browse All Recent Lessons →
Browse All My Lessons
By lesson type
By technique
By musical genre
By decade
By musical key
By popular artist
---