Join Song Notes Premium!
Immediately unlock all premium content with Premium membership! Get the most out of each lesson & take your playing to the next level.
🆕 PayPal now supported as a payment option! Click here to learn more.
All Prices in USD • All Payments Secure & Encrypted • Cancel Anytime
What Premium Membership Includes
Access all my Premium courses
Access all my instructional PDFs

(non-songs)

Access all my members-only videos & jam tracks
Access the private community forum
50% discount when buying my licensed song sheets
New lessons added each week! Never run out of things to play.
No commitment – cancel anytime!
Take the Tour!
What Happens After I Join?
You'll be logged in & have immediate access to all my premium content This includes my entire library of instructional PDFs, members-only videos, the community forum, and the 50% discount code for buying my licensed song sheets. You can find all of this here on this website (SongNotes.net).
I'll email you each week as I post new lessons Members will automatically get an email (about once per week) to stay informed about new lessons I post. Each email will link to the lesson page here at SongNotes.net, where all premium content for that lesson can be found.
You can cancel your account anytime While I'm confident you'll be satisfied with Song Notes Premium, there's no lock-in or related funny business that you might encounter with a gym memberhsip — you can cancel anytime. After canceling, you'll continue to have Premium access for the remainder of that billing period.
Frequently Asked Questions
What's the difference between song sheets & instructional PDFs?
These are the two types of print-friendly guides I create, and you get them in different ways:
Song Sheets - which teach full songs, including lyrics/chords/tabs/etc. For copyright & legal reasons, the only way to get these is via individual purchase via Musicnotes.com (a separate company, no relation to Song Notes). Each song sheet is properly licensed, ensuring the songwriters are getting a portion of each purchase. Members on this website get a 50% discount code to use when buying any of these song sheets.


Instructional PDFs – which teach techniques, riffs & exercises, and music theory. Members of Song Notes Premium get full access to my entire library of PDFs, which can be downloaded direclty from this website. These PDFs are 100% original and created by me, and don't fall into any of the licensing requirements that apply to my song sheets. You can keep the PDFs forever and print them as many times as you want.
Where do I find members-only PDFs, videos, and jam tracks?
Simply open any lesson page on this website — and when logged in, you'll be able to access any members-only content that exists for that lesson.
Here's an example lesson if you want to see for yourself — notice how it has an Instructional PDF download and two members-only videos, all viewable on the page. When you're logged in, you can get the PDF by clicking the "Download" button.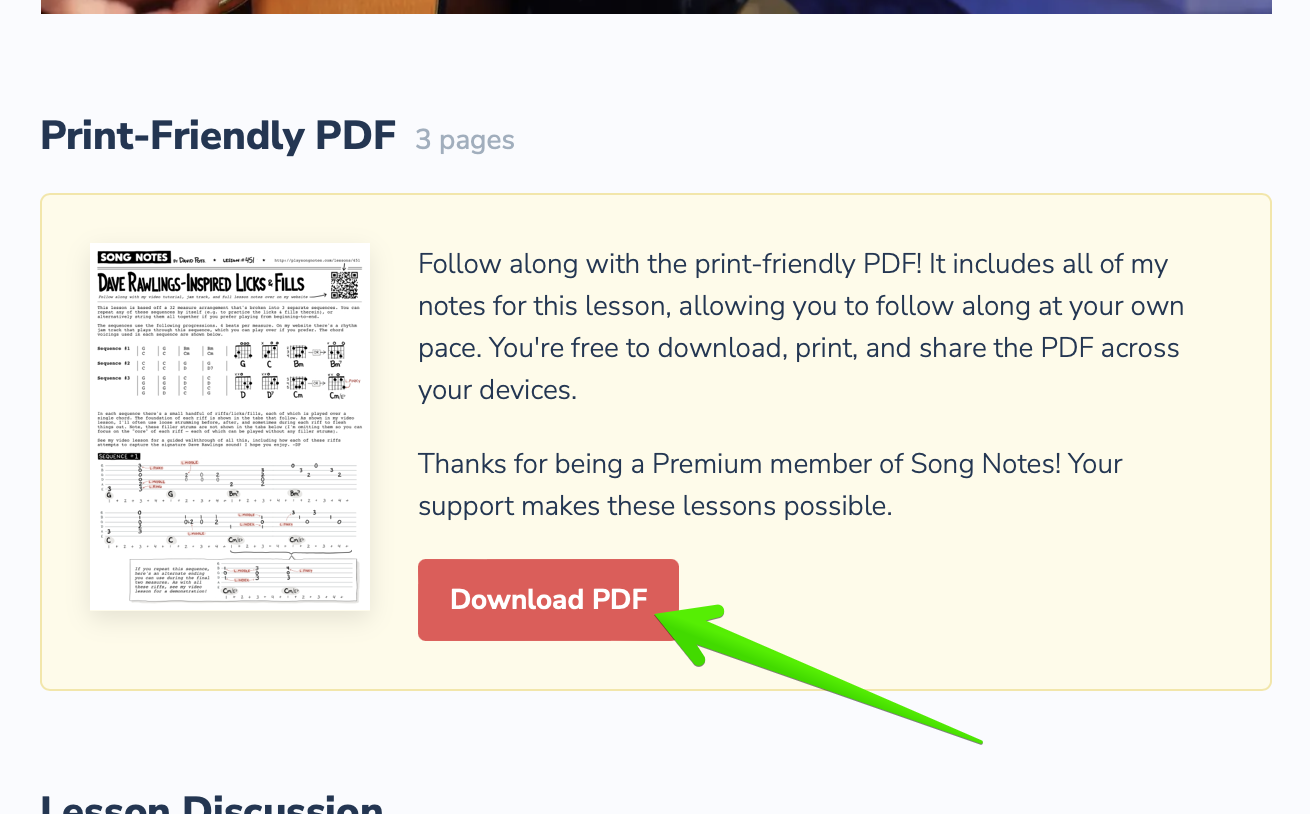 For members-only videos and jam tracks, they'll simply appear on the page (for you to watch or listen to) when you're logged in.
Where do I find the 50% discount code for song sheets?
Members of Song Notes Premium can save 50% when buying my licensed song sheets by using a coupon code I give out each month.
You can always find current month's coupon code by logging in (here at songnotes.net) and viewing this module on the homepage: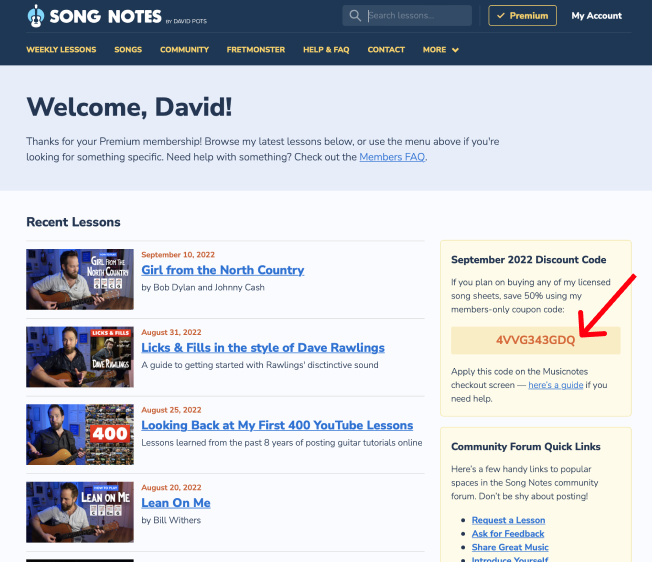 Likewise, each song lesson (with a licensed song sheet available) will display the current month's code directly below the song sheet module.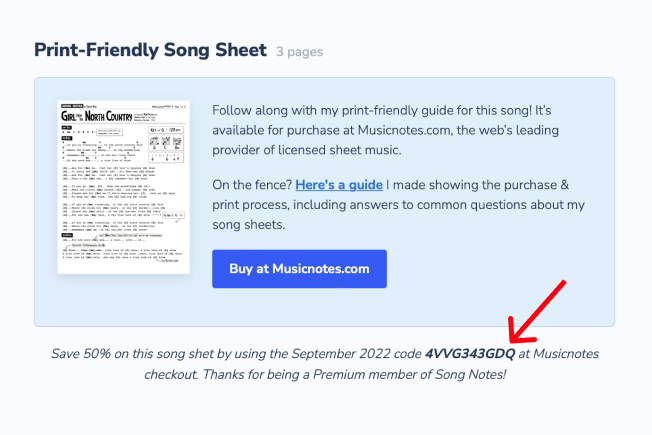 Simply copy & paste the code into the coupon field of the Musicnotes checkout screen — and your 50% discount will apply. Note, the discount code will only apply toward purchases of my song sheets on Musicnotes. If you're buying sheet music created by some other author/arranger, the code won't do anything.
After joining, when will I be charged?
Whether joining a monthly or annual plan, your first charge will occur the moment you complete sign-up. This will give you Premium access for the entirety of that first payment period.
For monthly plans, future charges will occur every ~30 days (on the same day of the month you originally signed up, when possible). For example, if you sign up on September 15th, your next charge will be October 15th. If you cancel, you'll keep Premium access for the remainder of the current pay period.
For annual plans, future charges will occur exactly one year later. You'll get an email one week before your plan renews, just so you're not caught by surprise. If you cancel at any point during the year, you'll continue to have Premium access up until your signup date (e.g. if you join September 15th and cancel at any point, you'll still have Premium access up until the following September 15th).
Do you accept membership payment via Paypal?
Yes! See this page for information about paying for Premium membership using PayPal.
What if I already support you on Patreon?
You can keep your membership on Patreon if you wish — I'll continue to post there.
But, I strongly suggest you transfer your membership to this website — as I'm confident it provides a much improved experience. When you join this site, I'm also happy to refund your latest Patreon pledge to ensure you don't have overlapping payments for my Premium content.
Do you offer refunds?
Absolutely. If within the first 30 days after signing up, you realize membership to Song Notes Premium isn't a fit — let me know and I'll issue a full refund.
Note, I'm unable to issue refunds for song sheet purchases from Musicnotes. If you need assistance with a recent purchase, reach out to their support team — they're fully staffed and great about getting back to you promptly.
How do I cancel?
Simply login here at songnotes.net, and click the "My Account" link in the top-right corner. Click "View or Cancel Plans" and then "Cancel Subscription" — and you're done!
After canceling, you will continue to have Premium access for the remainder of the current pay period.
Ready to join?
I have monthly and annual plans available... signing up is easy!